Mobile phones have become an integral part of our daily life. Even the drinking water is exorbitant when compared to the large amounts of mobile phones in the market. Nevertheless, technology never tires from innovation and its scope gets widened day by day. All the applications done by the computer can now be made by a mobile phone, which in turn resulted in the increasing demand of mobile phones. With more applications and innovations in the backdrop, the price of the cell phones augmented. The world's top 5 expensive cell phones are enumerated below:
IPhone 5 Black Diamond –
This phone is manufactured and designed by Stuart Hughes. The home button is fabricated with 26 carats of deep-cut black diamonds and rear section with 600 flawless diamonds withal full gold dressing. Moreover, the Apple logo is made of solid gold with 53 flawless diamonds.
Goldvish Le Million –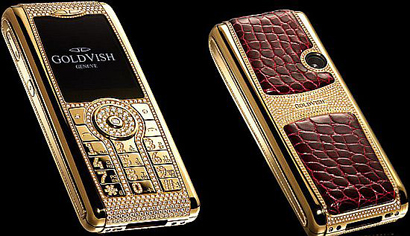 This beautiful phone is carved in 18 carat gold and possesses 120 carats of VVs-1 grade diamonds. This phone is an exemplary of Swiss craftsmanship and was designed by Swedish designer Emmanuel Gueit. Goldvish Le Million is named the most expensive mobile phone in the world by the Guinness Book of records.
Gresso Luxor Las Vegas Jackpot –
The phone created by Gresso, a company manufacturing luxurious mobile phones, is fabricated  with a case made of 18k gold with a back panel of 200 years old African Blackwood. The keys are made of polished sapphire while the numbers and symbols are equipped with laser technology.
Vertu Signature Cobra –
Manufactured by Vertu, this not-so luxury cell phone is still a replica of luxury that resembles basic mobile features. Nevertheless, the chandelier covered with stones attracts umpteen numbers of customers.
Sony Ericsson Black Diamond –
Designed by Garen Joh, this Sony Ericsson is tri-band GSM with EDGE and GPRS. This clamshell phone weighs 96g and utilized black diamond for plating.
These exorbitant cell phones are the dreams of many common man. Nonetheless, people purchase it regardless of the money. This manifests the influence of technology. Cell phones have become so dear to everyone's lives that a day without them would be like a meal without salt!
For more updates on expensive mobile phones, keep visiting us.
By G+ Author: Dennis Tablott.